What's the difference between a mowing tractor and a tractor mower? While it may seem confusing at first, mowing tractors are self-propelled machines that you ride on. On the other hand, tractor mowers are mowers that are pulled by a tractor or other piece of machinery. While these used to be made mostly for commercial use, today there are many consumer units available on the market.

All cutting equipment isn't alike, and the best mower for you will depend upon your cutting needs.

If you are cutting over uneven terrain with weeds, scrub, rocks, and other obstacles, your best bet is to choose a heavy-duty rotary mower with swinging blades. Bumpy or hilly pastures that are free of rocks, on the other hand, will do best with a rotary multidisc-type mower.
If you are cutting an area that doesn't need to be cut too closely, such as a pasture, a rough-cut mower should do the job. If you are looking to cut a large lawn or fairway, you'll want to use a finishing or grooming mower. These mowers use multiblade rotaries, gangs of single-spindle units, or reel-type mowers.
If you need to make a very close trim such as on a golf green, tennis court, or sports arena, a well-sharpened reel-type mower will do the trick. These machines can be set as low as 1/10th of an inch and gauged to the nearest millimeter.
Options for home lawns include self-propelled push mowers, ride-on mowers, and robotic mowers, most of which are single vertical-spindle rotary type or reel type mowers.
---
Copyright 2007-2022 Zeducorp.
All rights reserved.

Lawn Mowers - Mowing Tractors - Tractor Mowers
Related Image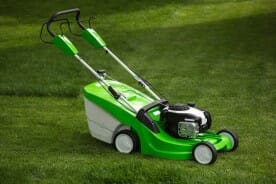 Lawn Mower On A Green Lawn